| Clan Leadership | Welcome to Hydra | Clan Information |
| --- | --- | --- |
Founder

Leader

High Council

Officer

Discord

Contact pxtyler#8071

Uniform

Clan Chat

CC Hydra

Home World

World 9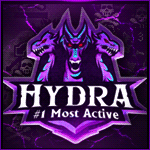 Content Count

13

Joined

Last visited
About HY Arcane

Recent Profile Visitors
The recent visitors block is disabled and is not being shown to other users.
HY Arcane

reacted to a post in a topic:

HOW TO TANK GUIDE

Yeah I feel you my hope was that it would bring the pvmers to actually try and learn to pk by being matched with people only a little better then them and gradually getting better over time.

Hey guys I made a post on Reddit for an update to the BH system please check it out / upvote if you agree with it!

Also Barrows isn't terrible money and is pretty easy to do now that you can use POH to tele to barrows instead of buying the tabs.

I played up until EOC then went to private servers. Started OSRS on release then quit until Jan of 2019 so now here I am again XD

Decided to log into the the game one last time to see if..

More salt then McDonald Fries xD

In addition to this it would be nice to have a Clan Hub implemented something like a POH but as a Clan's guild type of area. It could be just a members house that designated as it and clan members can enter and use all the features regardless of if the player is online or home. In addition to that adding a teleport option directly to said Hub via either right clicking a house tab or teleport and or added to the Glory Amulet.

I'm slowly grinding my skill total up I'll make sure to hit you up once I hit 1500!

Don't mind my mini spam from under 1 hour of a trip with the boys

HY Arcane

reacted to a post in a topic:

PVP PK LOOT (POST YOUR LOOTS HERE!)

Awwww If only I was a Archer's But feels good to get a smite none the less! GJ!